Episode 382: Prometheus
By
Podcast: Play in new window | Download (Duration: 2:17:24 — 189.1MB)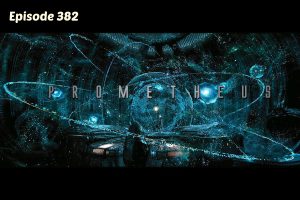 Howdy B-Movie Cast friends and family! This time on the show we have a special guest from the U.K. – the coolest photographer ever- Mark Mawston!
Mary, Mark and Nic take a look at the much loved (and for some not so much loved) "Alien" series film: "Prometheus". This was a favorite of Vince's and Mark, Vince and Nic joked a lot about being the only people other than Ridley Scott who love the film! Now it's time to find out why we think it's awesome!
Mary also wanted to give a big shout out to Daryl at Screem Magazine! Issue 32 was dedicated to Vince! Also, since we're talking "Prometheus" this time on the cast it's exciting to announce that Screem Magazine issue #33's cover story will be about "Alien: Covenant" and feature an interview with John Logan, the man who wrote the film's screenplay! -You can check out Screem Magazine here: http://screemag.com/index.php
Also- Not B-movie but still pretty cool, Fiona has just launched her new Food and Travel site British Food and Travel! (www.BritishFoodandTravel.com)
Oh and be sure to stop by the contest page and send us your feedback!
Email us at BMovieCast@gmail.com, send us an MP3 file or call our toll free number (Mary has that one figured out!).
Finally- the nominations are out for the 2016 Rondo Awards and a lot of B-Movie Clubhouse folks are getting nods-
Mark Mawston, Rod Barnett, Derek Koch, Screem Magazine and Cinema Retro Magazine, to name a few, are all nominated for different categories! Visit the site and vote for your favorites! http://rondoaward.com/rondoaward.com/blog/
So sit back, grab a TV dinner and your favorite beverage and tune in for the new episode!