Archive for horror
Podcast: Play in new window | Download (Duration: 2:44:06 — 225.6MB)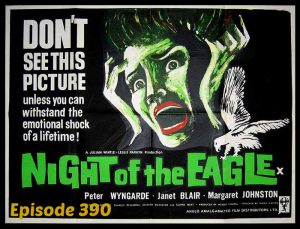 Happy Halloween B-Movie Cast Fans! This time on the show Mary and Nic are doing a special episode with our friend from the U.K. Mark Mawston! Mark picked out a classic bit of British cinema from the early 1960s for us staring Peter Wyngarde called "Burn Witch Burn" (originally called "Night of the Eagle" in the U.K.). It's a movie about witches, magic and the power of being an uptight University professor!
So sit back, grab your bag of Halloween candy and enjoy episode 390 of the B-Movie Podcast!
Click here to watch "Burn Witch Burn" (AKA- "Night of the Eagle") on Archive.org!