B Movie Cast Episode 378: The Empire Of Dracula! (El Imperio de Dracula)
By
Podcast: Play in new window | Download (Duration: 2:10:49 — 179.7MB)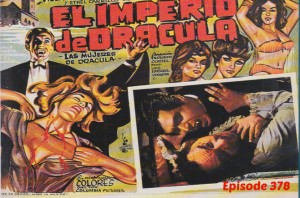 Hey Folks the B-Movie Cast is BACK!
This time Mary, Juan and Nic check out The Empire of Dracula or "How I learned to stop worrying and love the Vampiro de Mexico!).
We also finally have some of the audio feedback we've been getting posted and Mary gets to read the emails on the air because we deleted some files on her recorder's memory card!
Also – Check out the contest page- there's a new picture up and I'm expecting a lot of entries in this week's contest so don't disappoint us!